Futuristic Clock Prepared for Space
(MAR 21) No one keeps time quite like NASA. More
Atmospheric Ammonia
Global atmospheric ammonia distribution trends for 2002 to 2016 are revealed in this map complied using data from NASA's Aqua satellite. Hot colors represent increases while cool colors show decreases. Information on atmospheric ammonia distribution could lead to strategies to control pollution from ammonia and ammonia byproducts in agricultural areas. Aqua was launched from Vandenberg AFB, Calif. in 2002. Image credit: Juying Warner/GRL
SpaceX Receives Launch Contract
(MAR 18) The Air Force Space and Missile Center has awarded Hawthorne, Calif.-based SpaceX a $96,500,490 fixed-price contract to launch the third Global Positioning System (GPS) III satellite.
Plans call for a SpaceX Falcon 9 rocket to launch the spacecraft from Cape Canaveral Air Force Station, Florida in February 2019.
GPS III is the next generation of GPS satellites and will feature improved immunity to jamming and greater accuracy for precision navigation and timing. The contract award marks a milestone in the Air Force's effort to make the process of awarding launch service contracts for U.S. national security payloads more competitive.
Brian Webb
$5.8 Million Grant Helps Expand Radio Telescope to Study 'Cosmic Dawn'
(MAR 6) A radio telescope array being built in South Africa to explore the period after stars first formed in the early universe has received $5.8 million in new funding from the Gordon and Betty Moore Foundation. More
Air Force, Mission Patners Launch NRO Payload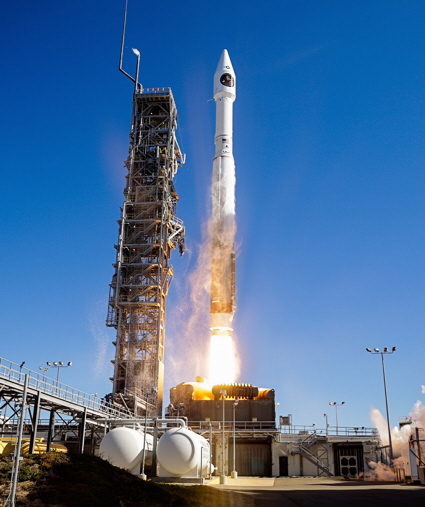 An Atlas V rocket carrying a national security payload lifts off on March 1 from Space Launch Complex-3 East at Vandenberg AFB. Image: Air Force Space and Missile Center
(MAR 1) LOS ANGELES AIR FORCE BASE – EL SEGUNDO, Calif. -- The U.S. Air Force and its mission partners successfully launched a United Launch Alliance Atlas V vehicle carrying a National Reconnaissance Office (NRO) national security payload from Vandenberg Air Force Base, California, today at 9:49 a.m. PST.
"This launch is a testament to the teamwork between the Air Force and its mission partners," said Lt. Gen. Samuel Greaves, Space and Missile Systems Center commander and Air Force program executive officer for Space. "Congratulations to the NROL-79 integrated team of government and industry partners for a successful launch."
Air Force Space and Missile Center
Atlas Launch Scheduled
(FEB 24) VANDENBERG AIR FORCE BASE, Calif. - Team Vandenberg is scheduled to launch a United Launch Alliance Atlas V rocket carrying a National Reconnaissance Office payload from Space Launch Complex-3 on Wednesday, March 1, with a launch window opening at 9:49 a.m. PST.
Col. J. Christopher Moss, 30th Space Wing commander, will be the launch decision authority.
"We are postured for another successful Atlas launch," said Moss. "These missions are critical, and our team is excited to be a part of something that will have a global impact."
The 4th Space Launch Squadron is in charge of mission assurance and safety for this launch operation.
"These launches require constant communication with a widespread team, especially with the unique challenges we faced during this mission," said Lt. Col. Eric Zarybnisky, 4th Space Launch Squadron commander and Air Force Launch Director for this mission. "With the wildfires and recent rains, the Air Force team worked closely with the United Launch Alliance to ensure a successful and safe launch."
Vandenberg AFB
Valentine Day Light Show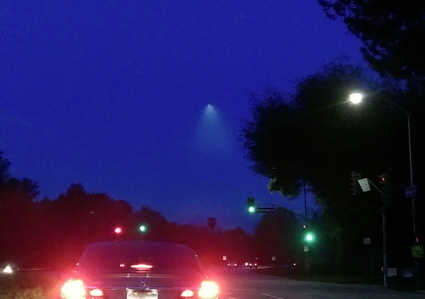 A Trident missile climbs into the dawn sky following launch from a submarine off the California coast on February 14. Here, the missile's exhaust plume is illuminated at high altitude by the Sun while the sky is still dark for observers on the ground. Bill Michaelis took this photo from Van Nuys, Calif. while driving in his car. Image copyright 2017, Bill Michaelis. Used with permission
(FEB 17) Observers over a wide area were treated to an interesting display at dawn on Tuesday thanks to the unannounced launch of two U.S. Navy Trident missiles.
The launches took place from an Ohio class submarine off the California coast. The powered phase and the aftermath of one or both launches was seen in the Bay Area and San Jose, Campbell, Costa Mesa, and Van Nuys, California.
Veteran launch watcher Rick Baldridge reported from northern California that the display "Was a good one. Saw the staging, etc. Perfect sunlight conditions - nice exhaust plume in a dark sky!"
Brian Webb
Minot Tests Minuteman III Missile with Launch from Vandenberg
(FEB 9) BARKSDALE AIR FORCE BASE, La. – A team of Air Force Global Strike Command airmen from the 91st Missile Wing at Minot Air Force Base, North Dakota, launched an unarmed Minuteman III intercontinental ballistic missile equipped with test reentry vehicles Feb. 8 at 11:39 p.m. Pacific [Standard] Time from Vandenberg Air Force Base, California. More
South Pole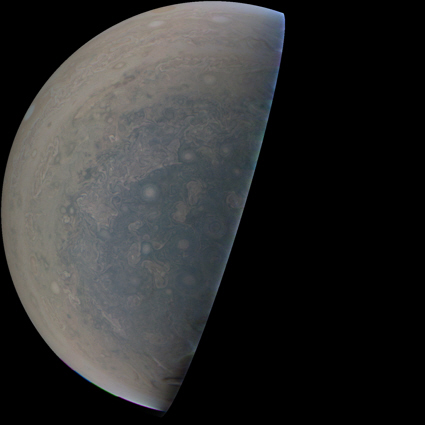 Cyclones swirl and white oval storms are visible in this image of Jupiter's south polar region taken by NASA's Juno spacecraft. Lockheed Martin Space Systems, Denver, built the spacecraft. Image credit: NASA/JPL-Caltech/SwRI/MSSS
Boeing, Air Force Extend GPS Partnership
(FEB 2) EL SEGUNDO, Calif. – Boeing and the U.S. Air Force recently signed a Global Positioning System (GPS) sustainment agreement that will ensure the navigation capabilities relied upon by millions of military and commercial users remain robust for years to come.
Under the agreement, Boeing will support GPS IIA and IIF satellites currently on orbit for the next five years. Boeing, which has been the prime GPS contractor for more than 40 years, is now part of the Air Force effort that may lead to the next generation of GPS satellites.
Collectively, Boeing GPS satellites have accrued more than 550 years of on-orbit operation. In March 2016, the company delivered its 50th GPS satellite on orbit to the Air Force and has built more than two-thirds of the GPS satellites that have entered service since 1978.
Boeing
Study Tracks 'Memory' of Soil Moisture
(JAN 25) A new study of the first year of observational data from NASA's Soil Moisture Active Passive (SMAP) mission is providing significant surprises that will help in modeling Earth's climate, forecasting our weather and monitoring agricultural crop growth. More
Possible Mud Cracks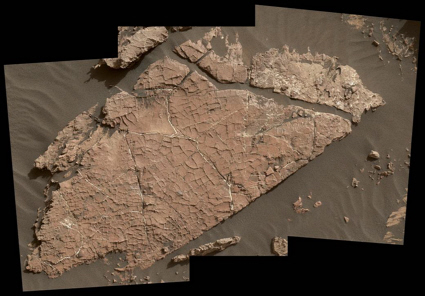 The network of cracks in this Martian rock slab called "Old Soaker" may have formed from the drying of a mud layer more than 3 billion years ago. The view spans about 3 feet (90 centimeters) left-to-right and combines three images taken by the MAHLI camera on the arm of NASA's Curiosity Mars rover. The Jet Propulsion Laboratory in Pasadena, California, manages the Mars Science Laboratory Project for the NASA and built the project's Curiosity rover. Image: NASA/JPL-Caltech/MSSS
Successful OSIRIS-REx Maneuver
(JAN 17) New tracking data confirms that NASA's OSIRIS-REx spacecraft aced its first Deep Space Maneuver (DSM-1) on Dec. 28, 2016. The engine burn sets up the spacecraft for an Earth gravity assist this fall as it continues its two-year journey to the asteroid Bennu.
The large maneuver was the first using OSIRIS-REx's main engines and resulted in a 964 miles per hour (431 meters per second) change in the vehicle's velocity utilizing 780 pounds (354 kilograms) of fuel.
DSM-1 represents the first major, post-launch milestone for OSIRIS-REx. The significant change in trajectory from DSM-1 was necessary to put OSIRIS-REx on course for an encounter with Earth in September of this year.
A smaller trajectory correction maneuver will be executed on Wednesday, Jan. 18 to refine the course for the Earth flyby, during which Earth's gravity will bend the OSIRIS-REx trajectory and slinging it toward a rendezvous with the asteroid Bennu in the fall of 2018.
Dante Lauretta of the University of Arizona, Tucson, is the principal investigator, and the University of Arizona also leads the science team and the mission's observation planning and processing. Lockheed Martin Space Systems in Denver built the spacecraft and is providing spacecraft flight operations.
University of Arizona
Falcon 9 Launched
(JAN 14) A Falcon 9 rocket carrying 10 Iridium Next communications satellites was successfully launched at 9:54:39 PST this morning from Vandenberg AFB, Calif. Iridium Communications, Inc. reports the satellites were successfully delivered into low-Earth orbit about one hour after launch.
I observed the launch with several aerospace enthusiasts from a high bluff west of Newbury Park, approximately 100 statute miles east-southeast of the launch site. The first stage's orange flame and contrail were easily visible to the unaided eye.
Using tripod-mounted 10x50 binoculars, I could clearly see the rocket's shape and shock diamonds in the first stage's flame. As the Falcon 9 gained altitude, the binoculars showed an expanding, tenuous exhaust plume. Following stage 1/2 separation, the shapes of both stages and the widening gap between them were visible through the binoculars.
I attempted to continue tracking the first stage after separation in hopes of seeing re-ignition of the engines for the subsequent soft-landing attempt. Unfortunately, shortly after staging, my binoculars suddenly unlocked, pitched up, and pointed in the wrong area of the sky. I regained control of the binoculars and scanned the sky, but could not find the first stage.
Brian Webb
Earth from Mars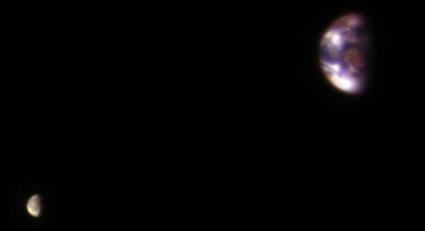 From the most powerful telescope orbiting Mars comes a view of Earth and its moon. The image combines two data calibration exposures taken on November 20 by the High Resolution Imaging Science Experiment (HiRISE) camera on NASA's Mars Reconnaissance Orbiter. The exposures were processed separately to optimize detail on Earth and the moon. The University of Arizona, Tucson operates HiRISE for the Jet Propulsion Laboratory and NASA. Image Credit: NASA/JPL-Caltech/Univ. of Arizona
Launch Delayed
(JAN 8) Monday's planned launch of a Falcon 9 rocket from Vandenberg Air Force Base has been delayed. The launch is tentatively scheduled for Saturday, January 14.
Hawthorne, California-based SpaceX, builder of the Falcon 9, plans to launch the rocket at 9:54:34 a.m. PST from Space Launch Complex 4-East at south Vandenberg. If the launch goes as planned, the rocket will rise vertically for several seconds, gradually turn southward, and carry ten Iridium Next communications satellites into orbit.
The best location for the public to view the launch is probably the west side of Lompoc near state highway 246. If the weather cooperates, the bright orange flame from the rocket's first stage could be visible over a wide area.
It is not known if SpaceX plans to make a powered landing of the rocket's first stage.
This will be the first launch of a Falcon 9 rocket since the catastrophic explosion of a Falcon 9 on the launch pad during a test in Florida last September.
Brian Webb