Air Force Stargazers Keep Skyward Watch
(MAY 16) WHITE SANDS MISSILE RANGE, N.M. - The emergence of the night sky signals the beginning of a mission for a select group of airmen here. More
Emerald Isle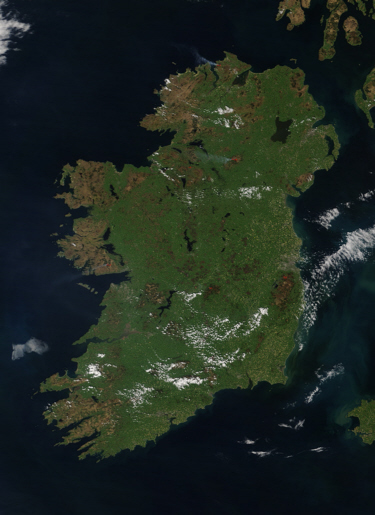 Since its launch from Vandenberg AFB, Calif. in 1999, NASA's Terra spacecraft has recorded numerous impressive views of Earth. Terra took this natural-color image of Ireland during a daylight pass over the Emerald Isle on May 8. At that time, numerous wildfires were burning across Ireland, the largest of which appear as red areas in this view. NASA image courtesy Jeff Schmaltz, MODIS Rapid Response Team.
AFRL Rocket Lab Technology Demonstration Program Completes Testing on Full-Scale Turbopump Machinery
(MAY 12) SACRAMENTO, Calif. – Aerojet Rocketdyne, a subsidiary of Aerojet Rocketdyne Holdings, Inc. (NYSE:AJRD), successfully completed its test campaign of a fuel boost kick pump at its Sacramento, California, facility as part of the U.S. Air Force Research Laboratory (AFRL) Hydrocarbon Boost Technology Demonstrator (HBTD) program. More
Minuteman III Launches from Vandenberg
(MAY 3) VANDENBERG AIR FORCE BASE, Calif. -- An unarmed Minuteman III intercontinental ballistic missile was launched during an operational test at 12:02 a.m. PDT here Wednesday, May 3, 2017.
Col. Chris Moss, 30th Space Wing commander, was the launch decision authority.
"It's always a privilege to partner with the tremendous professionals of Air Force Global Strike Command to conduct test launches like this one," said Moss. "The dedication and expertise of the combined 341st Missile Wing, 576th Flight Test Squadron and 30th Space Wing team is simply amazing. Their efforts over the past 10 months to make this mission possible shows why they are some of the most skilled operators in the Air Force."
Vandenberg AFB
F.E. Warren Tests Minuteman III Missile with Launch from Vandenberg
An unarmed Minuteman III intercontinental ballistic missile launches during an operational test April 26 from Vandenberg Air Force Base, Calif. (U.S. Air Force photo/Senior Airman Ian Dudley)
(APR 26) VANDENBERG AIR FORCE BASE, Calif. -- A combined team of Air Force Global Strike Command Airmen launched an unarmed Minuteman III intercontinental ballistic missile equipped with a single test re-entry vehicle April 26, 2017, from Vandenberg Air Force Base. More
Harris to Upgrade Radar
(APR 19) The Air Force has awarded Harris Inc., Colorado Springs, Colo. a $7,776,340 modification to an existing contract for software for the PAVE PAWS missile warning radar at Beale AFB, Calif. Harris will maintain the software and resolve obsolesce issues with existing early warning radar systems and improve the detection of incoming missiles. The work is expected to be complete by Feb. 19, 2019.
Brian Webb / Defense Department
"Flying Saucer" Moon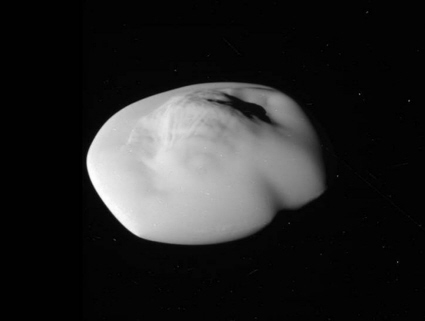 Saturn's moon Atlas resembles a flying saucer in this image from NASA's Cassini spacecraft. The photo is one of several recorded during an April 12 flyby that took Cassini within some 7,000 miles (11,000 kilometers) of Atlas. The images are the closest ever taken of Atlas and will help to characterize its shape and geology. NASA's Jet Propulsion Laboratory in Pasadena, California, manages the Cassini mission for NASA's Science Mission Directorate in Washington, D.C. Credits: NASA/JPL-Caltech/Space Science Institute
Raytheon Speeds Delivery and Secures Satellite Weather Data
(APR 12) AURORA, Colo. -- Raytheon (NYSE: RTN) has completed an upgrade and final testing of the data transport and processing system for the Joint Polar Satellite System Common Ground System which provides weather and environmental data used by NASA, NOAA, the U.S. Department of Defense and the agencies' international partners.
The upgrade accelerates data processing and dissemination, improves system availability and provides cybersecurity protection of the data and the CGS in support of the upcoming JPSS-1 launch as well as future satellite missions.
"The new system will output 11 terabytes of data a day being downlinked from the JPSS constellation," said Matt Gilligan, vice president of Raytheon's Navigation and Environmental Solutions. "JPSS CGS will speed up delivery of weather data to regional forecast centers that build weather models, track environmental aerosols and map polar ice movements."
The system upgrade precedes the final major step – an upgrade of the flight operations elements of the CGS – prior to the JPSS-1 launch scheduled for September 2017.
The Raytheon-built Visible Infrared Imaging Radiometer Suite on JPSS-1, as well as the Raytheon-supported Advanced Weather Interactive Processing System used by NOAA for weather forecasting, rely on the JPSS CGS.
Raytheon
Raytheon Receives Missile Defense Contract
(APR 3) The Missile Defense Agency has awarded the Raytheon Co., Tucson, Arizona, a cost-plus-fixed-fee contract up to $59,608,722 for the Multi-Object Kill Vehicle (KV) technology risk reduction (TRR) effort.
The contract represents part of the Missile Defense Agency's technology risk reduction strategy to improve performance and reduce risk for secure communications systems, high sensitivity multi-band sensor, survivable processor, KV divert and attitude control system, bus sensor and sensor pointing, and engagement management.
The work will be performed in Tucson, Arizona and the estimated contract completion date is April 2, 2020.
Brian Webb / Defense Department
Flight Assignment
This week NASA announced the selection of astronaut Joe Acaba for a mission to the International Space Station scheduled to begin in September. Born in Inglewood, California, and raised in Anaheim, California, Acaba earned a bachelor's degree in geology at University of California in Santa Barbara, one master's degree in geology from the University of Arizona, and one in education, curriculum and instruction from Texas Tech University. This will be Acaba's third trip to the space station and his second long-duration mission. Image credit: NASA
NASA Unveils New Video, Audio and Imagery Library for the Public
(MAR 28) NASA officially has launched a new resource to help the public search and download out-of-this-world images, videos and audio files by keyword and metadata searches from NASA.gov. The NASA Image and Video Library website consolidates imagery spread across more than 60 collections into one searchable location.
NASA Image and Video Library allows users to search, discover and download a treasure trove of more than 140,000 NASA images, videos and audio files from across the agency's many missions in aeronautics, astrophysics, Earth science, human spaceflight, and more. Users now can embed content in their own sites and choose from multiple resolutions to download. The website also displays the metadata associated with images.
Users can browse the agency's most recently uploaded files, as well as discover historic and the most popularly searched images, audio files and videos.
NASA
Futuristic Clock Prepared for Space
(MAR 21) No one keeps time quite like NASA. More
Atmospheric Ammonia
Global atmospheric ammonia distribution trends for 2002 to 2016 are revealed in this map complied using data from NASA's Aqua satellite. Hot colors represent increases while cool colors show decreases. Information on atmospheric ammonia distribution could lead to strategies to control pollution from ammonia and ammonia byproducts in agricultural areas. Aqua was launched from Vandenberg AFB, Calif. in 2002. Image credit: Juying Warner/GRL
SpaceX Receives Launch Contract
(MAR 18) The Air Force Space and Missile Center has awarded Hawthorne, Calif.-based SpaceX a $96,500,490 fixed-price contract to launch the third Global Positioning System (GPS) III satellite.
Plans call for a SpaceX Falcon 9 rocket to launch the spacecraft from Cape Canaveral Air Force Station, Florida in February 2019.
GPS III is the next generation of GPS satellites and will feature improved immunity to jamming and greater accuracy for precision navigation and timing. The contract award marks a milestone in the Air Force's effort to make the process of awarding launch service contracts for U.S. national security payloads more competitive.
Brian Webb
$5.8 Million Grant Helps Expand Radio Telescope to Study 'Cosmic Dawn'
(MAR 6) A radio telescope array being built in South Africa to explore the period after stars first formed in the early universe has received $5.8 million in new funding from the Gordon and Betty Moore Foundation. More
Air Force, Mission Patners Launch NRO Payload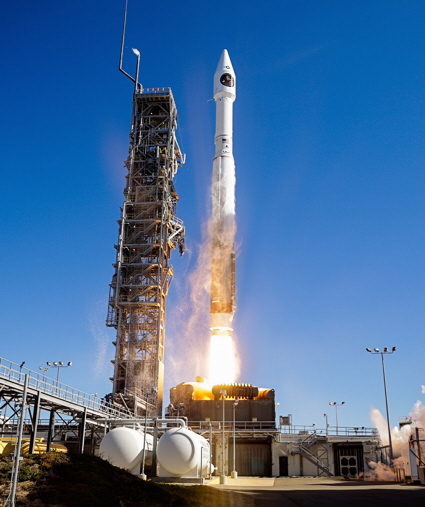 An Atlas V rocket carrying a national security payload lifts off on March 1 from Space Launch Complex-3 East at Vandenberg AFB. Image: Air Force Space and Missile Center
(MAR 1) LOS ANGELES AIR FORCE BASE – EL SEGUNDO, Calif. -- The U.S. Air Force and its mission partners successfully launched a United Launch Alliance Atlas V vehicle carrying a National Reconnaissance Office (NRO) national security payload from Vandenberg Air Force Base, California, today at 9:49 a.m. PST.
"This launch is a testament to the teamwork between the Air Force and its mission partners," said Lt. Gen. Samuel Greaves, Space and Missile Systems Center commander and Air Force program executive officer for Space. "Congratulations to the NROL-79 integrated team of government and industry partners for a successful launch."
Air Force Space and Missile Center
Atlas Launch Scheduled
(FEB 24) VANDENBERG AIR FORCE BASE, Calif. - Team Vandenberg is scheduled to launch a United Launch Alliance Atlas V rocket carrying a National Reconnaissance Office payload from Space Launch Complex-3 on Wednesday, March 1, with a launch window opening at 9:49 a.m. PST.
Col. J. Christopher Moss, 30th Space Wing commander, will be the launch decision authority.
"We are postured for another successful Atlas launch," said Moss. "These missions are critical, and our team is excited to be a part of something that will have a global impact."
The 4th Space Launch Squadron is in charge of mission assurance and safety for this launch operation.
"These launches require constant communication with a widespread team, especially with the unique challenges we faced during this mission," said Lt. Col. Eric Zarybnisky, 4th Space Launch Squadron commander and Air Force Launch Director for this mission. "With the wildfires and recent rains, the Air Force team worked closely with the United Launch Alliance to ensure a successful and safe launch."
Vandenberg AFB
Valentine Day Light Show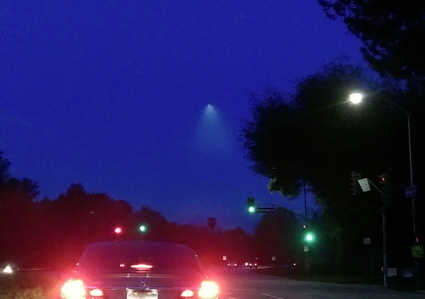 A Trident missile climbs into the dawn sky following launch from a submarine off the California coast on February 14. Here, the missile's exhaust plume is illuminated at high altitude by the Sun while the sky is still dark for observers on the ground. Bill Michaelis took this photo from Van Nuys, Calif. while driving in his car. Image copyright 2017, Bill Michaelis. Used with permission
(FEB 17) Observers over a wide area were treated to an interesting display at dawn on Tuesday thanks to the unannounced launch of two U.S. Navy Trident missiles.
The launches took place from an Ohio class submarine off the California coast. The powered phase and the aftermath of one or both launches was seen in the Bay Area and San Jose, Campbell, Costa Mesa, and Van Nuys, California.
Veteran launch watcher Rick Baldridge reported from northern California that the display "Was a good one. Saw the staging, etc. Perfect sunlight conditions - nice exhaust plume in a dark sky!"
Brian Webb
Minot Tests Minuteman III Missile with Launch from Vandenberg
(FEB 9) BARKSDALE AIR FORCE BASE, La. – A team of Air Force Global Strike Command airmen from the 91st Missile Wing at Minot Air Force Base, North Dakota, launched an unarmed Minuteman III intercontinental ballistic missile equipped with test reentry vehicles Feb. 8 at 11:39 p.m. Pacific [Standard] Time from Vandenberg Air Force Base, California. More
South Pole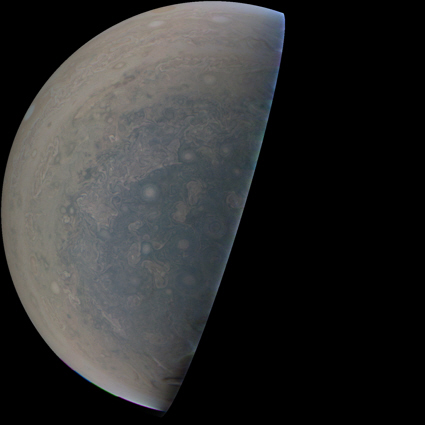 Cyclones swirl and white oval storms are visible in this image of Jupiter's south polar region taken by NASA's Juno spacecraft. Lockheed Martin Space Systems, Denver, built the spacecraft. Image credit: NASA/JPL-Caltech/SwRI/MSSS
Boeing, Air Force Extend GPS Partnership
(FEB 2) EL SEGUNDO, Calif. – Boeing and the U.S. Air Force recently signed a Global Positioning System (GPS) sustainment agreement that will ensure the navigation capabilities relied upon by millions of military and commercial users remain robust for years to come.
Under the agreement, Boeing will support GPS IIA and IIF satellites currently on orbit for the next five years. Boeing, which has been the prime GPS contractor for more than 40 years, is now part of the Air Force effort that may lead to the next generation of GPS satellites.
Collectively, Boeing GPS satellites have accrued more than 550 years of on-orbit operation. In March 2016, the company delivered its 50th GPS satellite on orbit to the Air Force and has built more than two-thirds of the GPS satellites that have entered service since 1978.
Boeing
Study Tracks 'Memory' of Soil Moisture
(JAN 25) A new study of the first year of observational data from NASA's Soil Moisture Active Passive (SMAP) mission is providing significant surprises that will help in modeling Earth's climate, forecasting our weather and monitoring agricultural crop growth. More
Possible Mud Cracks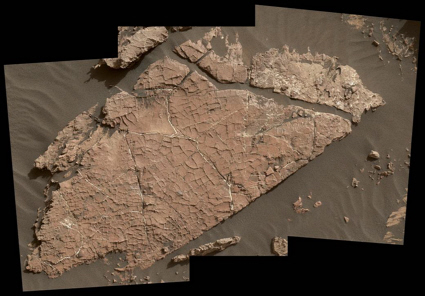 The network of cracks in this Martian rock slab called "Old Soaker" may have formed from the drying of a mud layer more than 3 billion years ago. The view spans about 3 feet (90 centimeters) left-to-right and combines three images taken by the MAHLI camera on the arm of NASA's Curiosity Mars rover. The Jet Propulsion Laboratory in Pasadena, California, manages the Mars Science Laboratory Project for the NASA and built the project's Curiosity rover. Image: NASA/JPL-Caltech/MSSS
Successful OSIRIS-REx Maneuver
(JAN 17) New tracking data confirms that NASA's OSIRIS-REx spacecraft aced its first Deep Space Maneuver (DSM-1) on Dec. 28, 2016. The engine burn sets up the spacecraft for an Earth gravity assist this fall as it continues its two-year journey to the asteroid Bennu.
The large maneuver was the first using OSIRIS-REx's main engines and resulted in a 964 miles per hour (431 meters per second) change in the vehicle's velocity utilizing 780 pounds (354 kilograms) of fuel.
DSM-1 represents the first major, post-launch milestone for OSIRIS-REx. The significant change in trajectory from DSM-1 was necessary to put OSIRIS-REx on course for an encounter with Earth in September of this year.
A smaller trajectory correction maneuver will be executed on Wednesday, Jan. 18 to refine the course for the Earth flyby, during which Earth's gravity will bend the OSIRIS-REx trajectory and slinging it toward a rendezvous with the asteroid Bennu in the fall of 2018.
Dante Lauretta of the University of Arizona, Tucson, is the principal investigator, and the University of Arizona also leads the science team and the mission's observation planning and processing. Lockheed Martin Space Systems in Denver built the spacecraft and is providing spacecraft flight operations.
University of Arizona
Falcon 9 Launched
(JAN 14) A Falcon 9 rocket carrying 10 Iridium Next communications satellites was successfully launched at 9:54:39 PST this morning from Vandenberg AFB, Calif. Iridium Communications, Inc. reports the satellites were successfully delivered into low-Earth orbit about one hour after launch.
I observed the launch with several aerospace enthusiasts from a high bluff west of Newbury Park, approximately 100 statute miles east-southeast of the launch site. The first stage's orange flame and contrail were easily visible to the unaided eye.
Using tripod-mounted 10x50 binoculars, I could clearly see the rocket's shape and shock diamonds in the first stage's flame. As the Falcon 9 gained altitude, the binoculars showed an expanding, tenuous exhaust plume. Following stage 1/2 separation, the shapes of both stages and the widening gap between them were visible through the binoculars.
I attempted to continue tracking the first stage after separation in hopes of seeing re-ignition of the engines for the subsequent soft-landing attempt. Unfortunately, shortly after staging, my binoculars suddenly unlocked, pitched up, and pointed in the wrong area of the sky. I regained control of the binoculars and scanned the sky, but could not find the first stage.
Brian Webb
Earth from Mars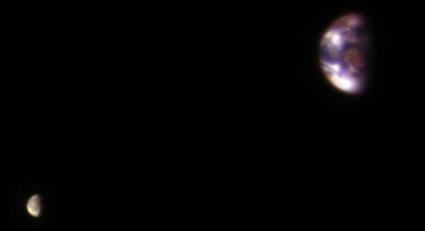 From the most powerful telescope orbiting Mars comes a view of Earth and its moon. The image combines two data calibration exposures taken on November 20 by the High Resolution Imaging Science Experiment (HiRISE) camera on NASA's Mars Reconnaissance Orbiter. The exposures were processed separately to optimize detail on Earth and the moon. The University of Arizona, Tucson operates HiRISE for the Jet Propulsion Laboratory and NASA. Image Credit: NASA/JPL-Caltech/Univ. of Arizona
Launch Delayed
(JAN 8) Monday's planned launch of a Falcon 9 rocket from Vandenberg Air Force Base has been delayed. The launch is tentatively scheduled for Saturday, January 14.
Hawthorne, California-based SpaceX, builder of the Falcon 9, plans to launch the rocket at 9:54:34 a.m. PST from Space Launch Complex 4-East at south Vandenberg. If the launch goes as planned, the rocket will rise vertically for several seconds, gradually turn southward, and carry ten Iridium Next communications satellites into orbit.
The best location for the public to view the launch is probably the west side of Lompoc near state highway 246. If the weather cooperates, the bright orange flame from the rocket's first stage could be visible over a wide area.
It is not known if SpaceX plans to make a powered landing of the rocket's first stage.
This will be the first launch of a Falcon 9 rocket since the catastrophic explosion of a Falcon 9 on the launch pad during a test in Florida last September.
Brian Webb