Vandenberg AFB Launch Schedule
As of 2013 May 13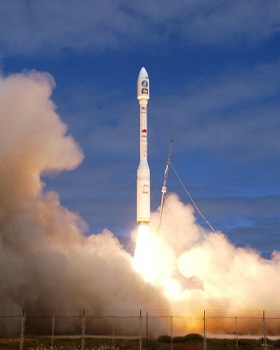 A Taurus rocket carrying Taiwan's ROCSAT-2 satellite lifts-off from Space Launch Complex 576E at Vandenberg AFB. To access launch photos, videos, and audio reports, visit the Vandenberg Rocket and Missile Launch Multimedia library. Image courtesy U.S. Air Force.
This schedule lists rocket and missile launches from Vandenberg AFB for the next several months. It is a composite of unclassified information approved for public release from government, industry, and other sources. This schedule is essentially accurate at the time of publication, but may disagree with other sources. Details on military launches are withheld until they are approved for public release. For detailed information about this schedule, refer to the Notes section below.
To receive this launch schedule and launch updates by e-mail, click here.
Date
Launch
Time/Window
PST/PDT

Vehicle
Pad/Silo
Comments
MAY 21
To be
announced
Minuteman III
---
The vehicle will send an unarmed warhead on a ballistic trajectory to an impact area downrange. The launch was scheduled long in advance, but the original mid-April date coincided with heightened tensions in East Asia. The launch was delayed to prevent it from being misconstrued by North Korea. The Defense Department will probably release details about the test a few days in advance.
JUN 26
19:27:34
Pegasus XL
Offshore
Payload is NASA's Interface Region Imaging Spectrograph (IRIS) satellite. Vehicle will be air dropped from an L-1011 jumbo jet flying offshore. The aircraft will be staged from Vandenberg AFB. The launch window is 5 minutes in duration.
JUL 9
09:00-11:00
Falcon 9
SLC-4E
Vehicle will launch the Cassiope satellite for the Canadian Space Agency
Summer
To be
announced
GBI
---
Missile defense system test. A Ground-based Interceptor will be launched from Vandenberg in an attempt to intercept a target launched from Kwajalein in the central Pacific.
AUG 28
To be
announced
Delta IV
Heavy
SLC-6
Vehicle will launch the classified NROL-65 payload for the U.S. National Reconnaissance Office
Notes
The dates and times in this schedule may not agree with those on other online launch schedules, including the official Vandenberg AFB schedule because different sources were used, the information was interpreted differently, and the schedules were updated at different times.

The webmaster does not post the dates, launch windows, and times for military launches until they have been officially released by the Defense Department.

All launch dates and times are given in Pacific Time using a 24-hour format similar to military time (midnight = 00:00, 1:00 p.m. = 13:00, 11:00 p.m. = 23:00, etc.).

The above schedule makes no distinction between Pacific Standard Time (PST) and Pacific Daylight Saving Time (PDT). PST is in effect from the first Sunday in November to the second Sunday in March. PDT is in effect from the second Sunday in March to the first Sunday in November.

The Pacific Time zone lags UTC by 7 or 8 hours, depending on the time of year. The time difference is as follows:

2013 MAR 13 - 2013 NOV 3: Pacific Time = UTC -7 hours

2013 NOV 3 - 2014 MAR 9: Pacific Time = UTC -8 hours

With the exception of Minuteman III launches, launch dates are fluid and tend to change over time.

Launches for all vehicles except the Pegasus XL are scheduled for the start of the launch window. Pegasus XL launch times are scheduled for the middle of the launch window.

Prior to the launch of a classified payload, the exact launch time is kept secret until about T-18 to T-4 hours. The launch window is also secret and not made public. Instead of providing the launch window, the Air Force announces a launch period - a large block of time within which the launch window falls.

For additional information on Vandenberg AFB launches, refer to Viewing Vandenberg AFB Launches.
Abbreviations
| | |
| --- | --- |
| ~ | Approximately |
| NET | No earlier than |
| PDT | Pacific Daylight Time |
| PST | Pacific Standard Time |
| UTC | Coordinated Universal Time |

Copyright © 2001-2013, Brian Webb. All rights reserved.