Pegasus XL Rocket / TRACE Launch Photos
2007 August 5
Photos of the 1998 April 1 dusk launch of a Pegasus XL rocket carrying NASA's TRACE (Transitional Region and Coronal Explorer) satellite from California's central coast. An L-1011 jumbo jet carried the Pegasus XL from Vandenberg AFB to the launch point southwest of Monterey and released it at a height of about 39,000 feet above the Pacific Ocean. The vehicle successfully placed TRACE into orbit.
These photos are good examples of the Twilight Effect, a phenomenon that occurs when a rocket or missile is launched after sunset or before sunrise and the exhaust plume is illuminated at high altitude by the Sun. This series of photos was taken by Brian Webb from TV Hill near the KEYT-TV studios in Santa Barbara, California.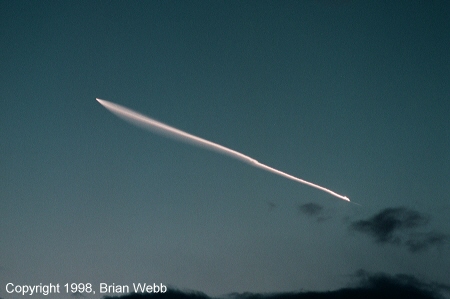 This photo was taken shortly after the vehicle suddenly appeared.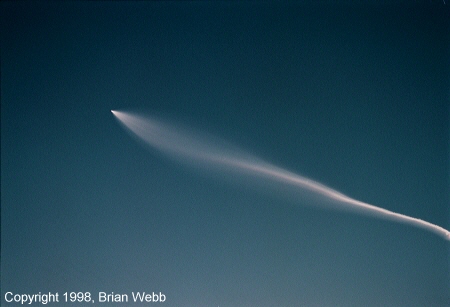 The second photo shows maximum development of the Pegasus XL second stage exhaust plume and contrail.
This image was taken shortly before Pegasus XL second stage cutoff. At this point, the plume looked like a Christmas tree and had fine, feathery internal detail.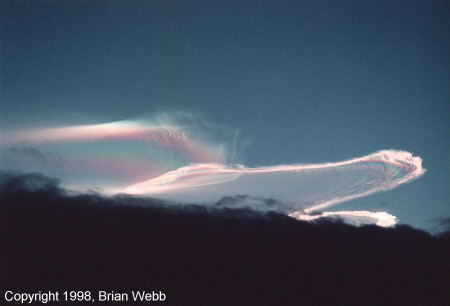 The final image shows the aftermath of the Pegasus XL/TRACE launch. It was taken as thick clouds moved in.
Copyright © 2003-2007, Brian Webb. All rights reserved.