Peacekeeper Missile / Glory Trip 28PA Launch
2018 December 2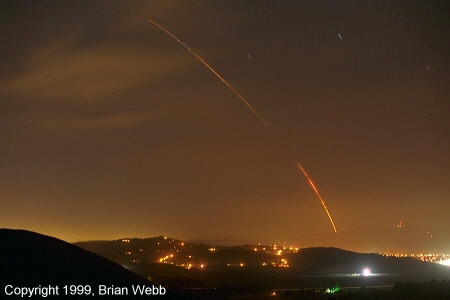 In spite of the presence of high clouds, the webmaster captured this photo of the 1999 March 10 night launch of a Peacekeeper ICBM from Vandenberg AFB. The test launch, called Glory Trip 28PA, vehicle sent eight unarmed reentry vehicle (warheads) on a 30-minute flight to impact areas at Kwajalein Atoll in the central Pacific.
This time exposure was taken by Brian Webb from a hill 110 statute miles (177 kilometers) east-southeast of the missile silo.
Copyright © 2003-2018, Brian Webb. All rights reserved.