Wednesday Minuteman Launch
by Brian Webb
2005 March 20
Weather permitting, sky watchers in southern California and outlying areas have an opportunity to see the launch of a strategic missile from Vandenberg AFB early Wednesday morning. The Minuteman III is scheduled to lift-off from a silo at northwest Vandenberg at one minute past midnight, the start of a launch window that extends from 00:01 to 06:01 PST (08:01 to 14:01 UTC).
The missile will send an unarmed warhead on a 4,800-mile flight to the central Pacific. Approximately thirty minutes after launch the warhead should reenter the atmosphere and arrive at its target at Kwajalein atoll.
The missile is a mix of components from a Minuteman III that was on alert in Montana and recently remanufactured stage 1, 2, and 3 solid rocket motors. Remanufacturing involves the removal and replacement of the motors' solid propellant in an effort to avoid "field ago out".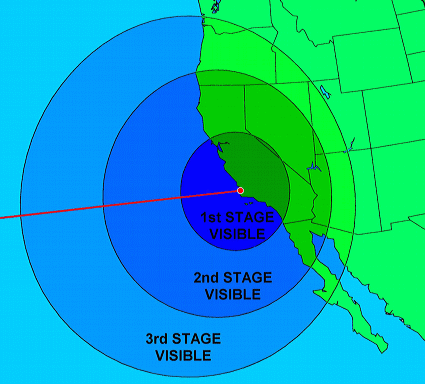 Visibility footprint for night and twilight Minuteman III test launches to the central Pacific. Graphic courtesy of Rick Baldridge.
The Minuteman III is the mainstay of the U.S. land based strategic missile force. The overhaul of the rocket motors is part of a larger modernization program to extend the service life of the weapon system to the year 2020.
The flight will provide data on the performance of the solid rocket motors and the reliability and accuracy of the 500-missile Minuteman III fleet.
Although Minuteman III night launches are usually visible over great distances, Wednesday's display will be diminished by a bright sky from a nearly full Moon. Observers in southern California should be able to see the launch using just the naked eye. Those in outlying areas may need optical assistance such as binoculars. For detailed information on viewing Vandenberg launches, refer to www.spacearchive.info/vafbview.htm
Copyright © 2005, Brian Webb. All rights reserved.