Minuteman III Missile / Glory Trip 176GM Launch
2006 May 20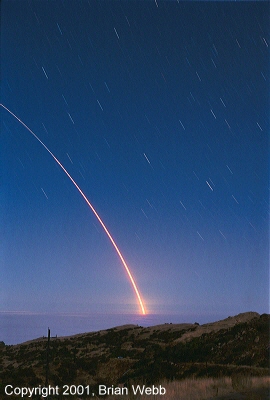 Photo of the 2001 November 7 night launch of a Minuteman III strategic missile from Vandenberg AFB. The test launch, known as Glory Trip 176GM, sent one or more unarmed reentry vehicles (warheads) to an impact area in the central Pacific.
In this time exposure, bright moonlight illuminated the sky, low clouds, and foreground. The short lines are star trails caused by the Earth's rotation. Taken by Brian Webb from the mountains north of Santa Barbara, California.
Copyright © 2003-2006, Brian Webb. All rights reserved.